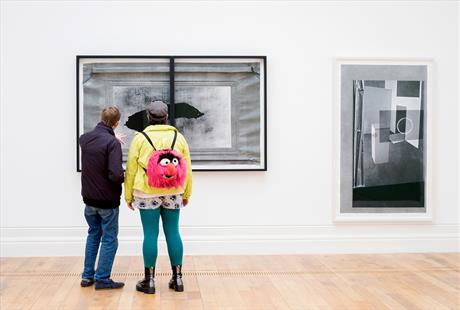 Address/Location
12 Vaughan Street
Llandudno
Conwy
LL30 1AB
Contact
Mostyn is one of the UK's finest contemporary art galleries and, in its six galleries, shows regularly changing exhibitions of international contemporary art.

A recent expansion integrated both new and original architecture in an award winning design by architect Dominic Williams.

Behind the impressive Victorian terracotta façade you will discover stimulating art, a stunning shop showcasing unique and contemporary craft, and a café where you can enjoy locally baked cakes, fresh coffee and a varied menu of exciting dishes cooked to order.

Opening Times
Opening

(2 Jan 2017 - 31 Dec 2017)

Day
Times
Monday
Tuesday

10:30

16:00

*

Wednesday

10:30

16:00

*

Thursday

10:30

16:00

*

Friday

10:30

16:00

*

Saturday

10:30

16:00

*

Sunday

10:30

16:00

*
Dates and times marked with a '*' are provisional and may be subject to change
What's Nearby
Your team. A room. An hour. Clues to find and puzzles to solve in order to fulfil your...

0.03 miles away

Retail Outlets for all the family.


0.17 miles away

Look out for the green HistoryPoints logo on walls, windows etc. Scan the QR codes with...

0.18 miles away

We operate private and small group (shared) sightseeing tours of North Wales, The...

0.21 miles away
The Alice in Wonderland town trail, map and souvenir guide is available for purchase from...

0.23 miles away

The Alice in Wonderland Looking Glass App is the much awaited sequel to the White Rabbit...

0.24 miles away

Alice in Wonderland "White Rabbit" App is one of the towns (Llandudno) self-guided audio...

0.23 miles away

Looking for information on Llandudno Beach?...If so, you have come to the right place!.....

0.24 miles away

0.36 miles away

Guided donkey rides on the North Shore beach

0.37 miles away

Take a trip down memory lane to life in 1940s Britain. In this unique living history...

0.4 miles away

Llandudno and Conwy City Sightseeing is a great way to explor3 these two historic and...

0.42 miles away

Take a trip through time.

0.42 miles away

Traditional children's favourites in shows on the North Shore Promenade, Llandudno....

0.44 miles away

Take a trip back in time and join us on our heritage sightseeing tour of Rhos-on-Sea &...

0.46 miles away

Giant astro-glide slide, pirates cove fun area castles and inflatable slide and...

0.47 miles away
Previous
Next